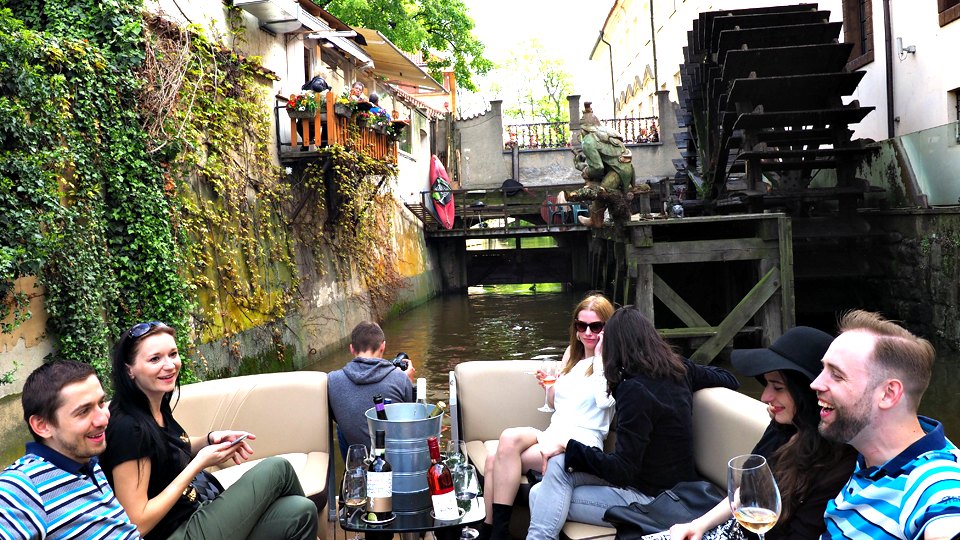 Wine Boat Cruise In Prague
Cruise along historical part of city centre and taste 5 samples of fine authentic Bohemian & Moravian wines with local wine enthusiast, in an intimate atmosphere with comfort surrounding. The Wine Boat is equiped with comfortable leather seats and cool wines for your pleasure.

General
Duration of cruise: 1 hour
Wines: 5 glasses x 65ml
Semi-private: €60 per guest
Public: €40 per guest
The Wines
The carefully selected wines are both from, Bohemian and Moravian wine regions of Czech Republic.
Price range of wines is between €15-€40:
1. Sparkling Wine, Méthode Champenoise, Extra Brut
Blanc de Noirs 2014, Pod Chlumem Winery, Litoměřice sub-region, Bohemia
2. White Wine, Medium-bodied, Dry
Veltlínské zelené 2015, Jakub Novák, Znojmo sub-region, Moravia
3. White Wine, Full-bodied, Dry
Pálava 2015, Sonberk, Mikulov sub-region, Moravia
4. "Rosé" Wine, Medium-bodied, Dry
Klaret de Pinot Noir 2016, Marko Jelič, Mělník sub-region, Bohemia
5. Red Wine, Medium-bodied, aged in barrique
Roučí 2014, Jaroslav Springer, Velké Pavlovice sub-region, Moravia
The Sights
Panorama of the Prague Castle
Four bridges, including Charles Bridge
"Čertovka" River Canal – Prague Little Venice
Ancient watermills and other various monuments
The Boat
Bennington Pontoon Boat – SSRX 24
The narrow built of the boat is designed to fit the Prague Little Venice
Size in meters: 8m x 2,7m; Size in feet: 26ft x 9ft
Blankets or life vests are available on request
The Crew
Wine enthusiast Andre & captain Ema, joined forces to create this tour for wine lovers and groups, looking for semi-private experience. Sometimes, Ema's little dog "Lucky" joins us to listen to some music and enjoy the breeze.
Availability
Mid-May – October
Semi-private Wine Cruise – up to 6 passengers:
Every Tuesday to Sunday from 5:00pm
Public Wine Cruise – up to 10 passengers on board:
Every Saturday from 6:30pm
Semi-Private Wine Cruise Booking Form